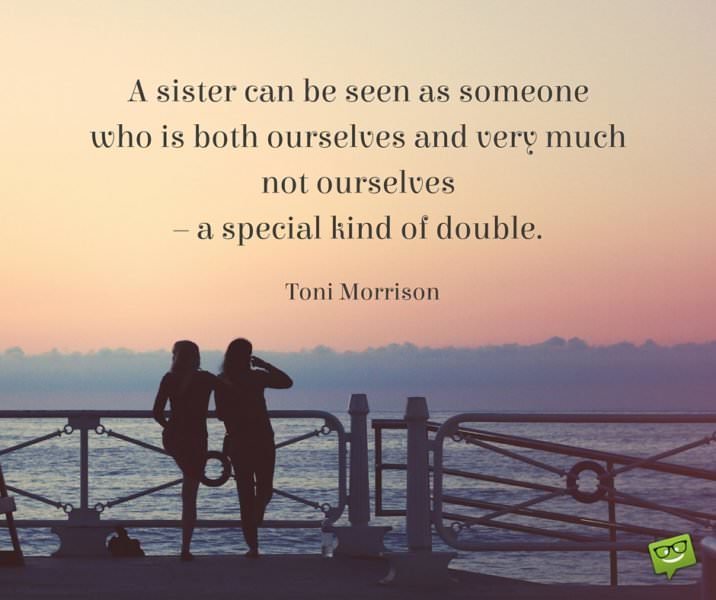 I have been fortunate enough to be surrounded by incredible women all my life, and most importantly my siblings who happen to be all girls. Being both an older and younger sister means I experience both sides of this relationship and have written this piece bearing that in mind.
 I have been thinking about how much I benefitted and still do benefit from having sisters, particularly older sisters.  So…In honour of my two older sisters' birthdays I am giving you my:
Top 10 reasons why every girl needs an older sister… 
Your older sister goes through everything in life first, so God basically handed you a "how to" guide when he made you a little sister.
She teaches you to laugh at yourself by teasing you, so that as you grow other people's mean-ness has no effect on you… by the same token she may be the reason for some of your insecurities lol… you know you will never be as cool as she is.
She is your personal diary, if it wasn't for her your therapist bills would be outrageous.
You get the coolest stuff from her as a kid, and the coolest clothes from her as a teen, and you have the advantage of an extended wardrobe in adulthood.
You have a private tutor available to you 24/7 for all your homework and assignments and you may even simply reuse her speeches and projects in some cases… and when you have kids, she will tutor them, craft and paint with them as well. 
If you're ever in trouble-regardless of the type (school, parents, university, work, family) she always has your back!
She advises you not to do it, but still covers for you when you insist on doing dumb shit in your early adult years.
She is a mother to your children and loves them like her own, she also scolds them like they are her own and spoils them like they are her own…there is no difference in her mind between your kids and hers. 
She makes time for you regardless of her schedule, she knows when you're not ok, she is your biggest supporter and cheerleader and will always be proud of you.
You have a best friend for life.
Love 
~BiBi~